Lifestyle Info
Healthy Eating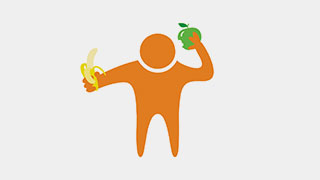 Recommendations
The UK Governments' recommendations for a healthy diet are based on evidence from the Committee on Medical Aspects of Food Policy (COMA) and the Scientific Advisory Committee on Nutrition (SACN) that succeeded COMA in 2000.

The recommendations are translated into a practical tool, the Eatwell Guide, which shows the proportions in which different types of foods are needed to have a well-balanced and healthy diet over the period of a day or even a week, not necessarily each meal time.

Recommendations indicate that adults should:
Eat a wide range of foods to ensure a balanced diet and that your body is getting all the nutrients it needs.
Eat the right amount of calories for how active you are, so that you balance the energy you consume with the energy you use. If you eat or drink too much, you'll put on weight. If you eat or drink too little you'll lose weight.
The guidelines are directed at the general population from the age of 2 years. Between the ages of 2 and 5 years, children should start moving towards the diet depicted in the Eatwell Guide.

The Eatwell Guide is the key nutrition policy tool for health professionals and others working to improve dietary health. It is supported by the 8 tips for eating well.
Base your meals on starchy carbohydrates
Eat lots of fruit and veg
Eat more fish – including a portion of oily fish
Cut down on saturated fat and sugar
Eat less salt – no more than 6g per day
Get active and be a healthy weight
Don't skip breakfast
Don't get thirsty 

To help staff understand their role in helping people to change their food related behaviour the MECC approach in Wales is focusing on 3 simple, main messages:
eat 5 fruit and vegetables a day 
swap high fat , high sugar food and drinks for healthier options
reduce portion sizes
Current situation
Data from the Welsh Health Survey in 2015 shows that 59% of adults in Wales were classified as overweight or obese, including 24% obese and only around a third (32%) of adults reported eating five or more portions of fruit and vegetables the previous day.
Benefits
Eating a healthy balanced diet helps to maintain a healthy weight as well as providing all the nutrients needed for reducing the risk of many chronic conditions, like coronary heart disease, stroke, type 2 diabetes, and some cancers.

Poor diet accounts for an estimated 10.8% of total disease burden (Newton et al., 2015).
The NHS choices Live Well website provides comprehensive information for the public on healthy diets, food choices, and maintaining a healthy weight.

Useful reference for health professionals.
The Nutrition Skills for Life programme led by Public Health Dietitians in Wales is effective at getting nutrition embedded into communities using consistent evidenced based messages and a 'train the trainer approach' to disseminate as wide as possible.

The BDA Food Fact Sheets are written by dietitians to help you learn the best ways to eat and drink to keep your body fit and healthy. These resources can be downloaded and printed for your own reference. The Fact Sheets are for information only: they are not a substitute for proper medical diagnosis or dietary advice given by a dietitian.